Kaneisha Grayson is a Harvard Graduate with both an MBA and MPA.
She's been in business for 7 years, helping applicants apply for graduate school. Her unique program – 'The Art of Applying' – assists in every step of the application process. From filling out application forms, all the way through to picking the right courses.
Before Kaneisha found Clients on Demand her business was making money, but not Harvard money. Total revenue in 2015 was around $270,000.
Her program consisted of an intro call that she charged $500.
This call gave clients lots of information … too much information in fact. So much so that most clients didn't feel they needed to sign up to the full program after that initial call.
Kaneisha's aha moment came when she calculated the value of the scholarships her clients were receiving versus the people who decided not to move ahead.
While her paying clients were sealing in the region of 3 million dollars in merit based scholarships, the people she'd had the introductory call with who'd not gone any further with Kaneisha were around the 1.7 million mark.
Something had to change …
Knowing that something wasn't adding up, Kaneisha frantically Googled 'how to get high paying clients' and landed on Clients on Demand.
As soon as she enrolled with COD, Kaneisha made some major changes right away.
She removed her low ticket offer and created just two programs.
The first was a high ticket entry level offer, and the second offer was a VIP program to help clients beyond the first program.
She realized that giving people only a piece of the solution (i.e. her old $500 introductory consult) was not helpful. Not only did it mean fewer sign ups for Kaneisha, but many of the people who took her up on this didn't get long-term, sustainable results, as they didn't take all the steps they needed.
By clarifying her offer and upping the value and incentive, she was able to better serve her clients.
Right away, Kaneisha saw instant results with waiting lists of 30 to 40 people to sign up for a call. (And potential clients are still responding to the email she sent out weeks before.)
The thing is, Kaneisha didn't get incredible results right away.
During her first four weeks, she struggled with getting conversions on her sales calls. Her calendar was fully booked with people eager to hear more about what she had to offer, but when it came to pulling the trigger, she was getting the typical –
"Sounds great, but let me think about it."
"Okay, sure, I'll just have to check with my parents first."
"Amazing. I'd love to, but the funds just aren't there right now."
That's when she set up a call with Coach Lisa to address some mindset issues.
Kaneisha soon realized she had to let go of the limiting belief that her business was special. 'Special' in the sense that the tools and tactics of Clients on Demand wouldn't work because her business was unique.
Because many COD success stories revolve around business, health and relationship programs, Kaneisha assumed some of the methods wouldn't work for her. But that wasn't the case.
"You have to be willing to listen and take advice," Kaneisha says.
That's how she was able to step away from that call with coach Lisa and close almost every deal after. She attributes much of her success to the flexibility and willingness to make changes.
"It's not about learning one new thing and you're good. It's about conditioning a new mindset."
By the end of the program, Kaneisha made over $100,000 in revenue.
Today Kaneisha is working on building up her sales team to help scale her business to a new level. She's joined Millionaire Alliance and is continuing to move towards the million dollar business she has always dreamed of.
Not everyone is like Kaneisha.
Not everyone has a program that truly delivers results.
Not everyone has the willingness to change and adapt.
Not everyone can leave their ego at the door and adopt new methods.
But, if you can do this, we'd love to offer you a 45 minute call with someone from the COD team so you can find out exactly what the Clients on Demand difference is.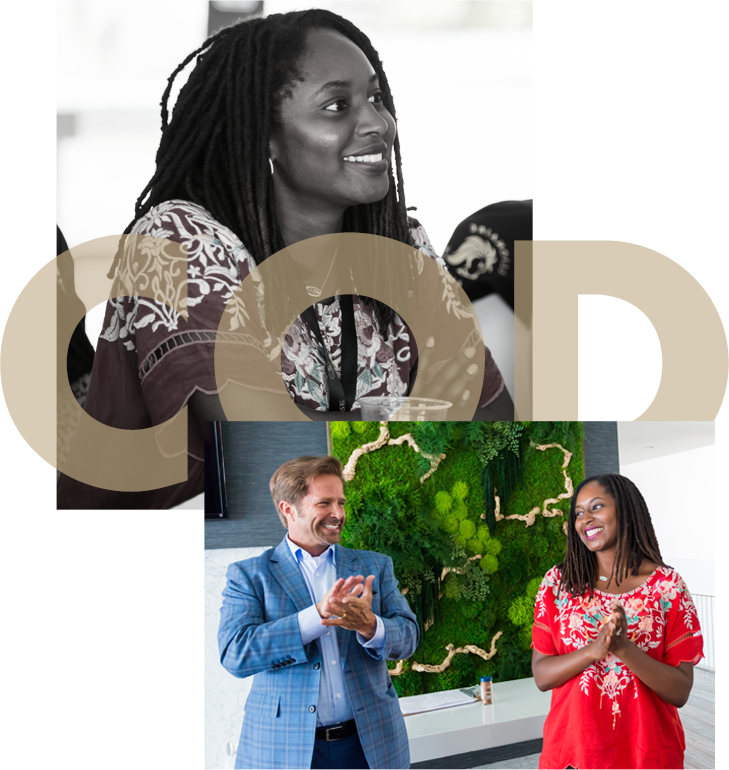 It might change your life.
It might help you refine your offer. It might get you that million-dollar business.
Whatever it is, it will definitely be worth 45 minutes of your life.